Oregon Zoo Foundation Endowment Funds
The Oregon Zoo Foundation manages four endowments, providing long-term support for the zoo's most important programs.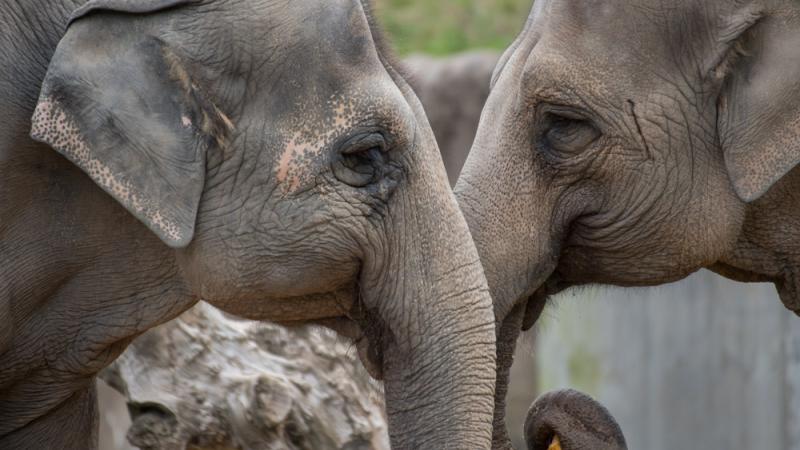 Giving to a foundation endowment fund allows you to restrict the principal of your gift to a program area and each year 4% of the fund's total value is distributed to the zoo — your gift can continue in perpetuity!
Conservation Fund
Endowment funds contribute to regional species recovery efforts like the Oregon Zoo's renowned California condor recovery program and promising conservation projects in the Pacific Northwest and around the world. The foundation helps fund the zoo's collaboration with the Bornean Orangutan Survival Foundation (BOSF) to improve the welfare of tuberculosis positive orangutans, help local communities replant forests for wildlife and offer training for animal care teams on the ground in Borneo.
Education Fund
Inspiring the next generation of conservation leaders to advocate for the natural world requires investing in leadership training, outreach and scholarships. The Education Endowment Fund helps underwrite programs to connect the community-at-large with wildlife and wild places.
Animal Welfare Fund
Generous donors fund advancements in veterinary medicine and animal care through this important endowment. The Oregon Zoo is a pioneer in the field of animal training and enrichment with over 30 years delivering innovative approaches for animals' physical, mental and emotional health. The zoo is committed to providing the best possible care to animals here at the zoo and to improve the overall welfare of populations in the wild. This endowment funds a variety of programs, including graduate student research that informs and advances our understanding of animal behavior, care and welfare.
Asian Elephant Fund
The Asian elephant endowment fund provides a permanent, self-sustaining source of funds dedicated to making a direct and positive impact on Asian elephants here and in the wild. For several years, this endowment has supported a professional exchange and capacity building project with the Sabah Orphan Elephant Project in Borneo, as well as supporting the National Elephant Herpesvirus Laboratory at Smithsonian's National Zoo.
For more information about endowments, email foundation@oregonzoo.org or call 503.220.2483.