News
How sweet it is: Ruby Jewel debuts ice cream "Samsonwich"
July 24, 2018, 3:35 p.m.
Topic:
Elephants,
Oregon Zoo Foundation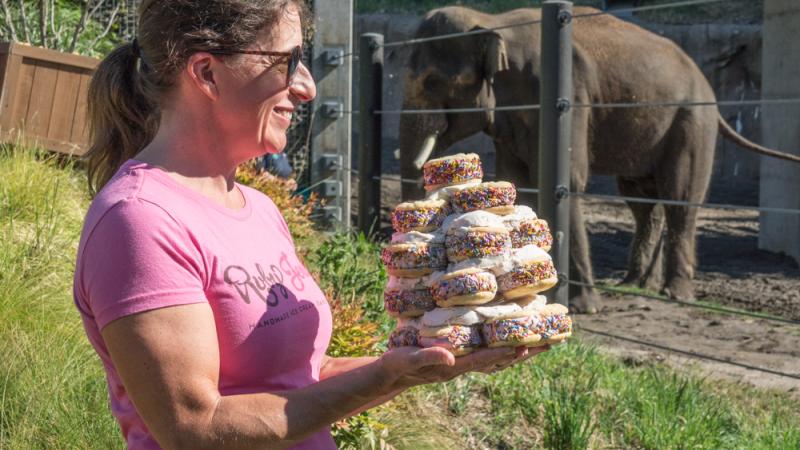 Sales of the new ice-cream sandwich benefit elephant conservation worldwide
As summer heats up, humans aren't the only ones who like to cool down with a frozen treat. Samson, the newest member of Oregon Zoo elephant family, beat the heat on Monday with a pachyderm-sized pyramid of "Samsonwiches," the latest offering from local hand-made ice-cream purveyors Ruby Jewel.
The strawberry, banana and apple ice-cream sandwich is now available at the Ruby Jewel cart at the zoo. A dollar from every sandwich sold goes to the Oregon Zoo Foundation, which supports the zoo's wildlife conservation efforts and has established a $1 million fund benefitting Asian elephants.
"Samson ate his ice cream sandwich in about three bites," said Bob Lee, who oversees the zoo's elephants. "Of course, Ruby Jewel asked us about his favorite fruits so they could include them in the recipe."
The fruit-flavored ice cream is sandwiched between two lemon cookies and covered with rainbow sprinkles. In keeping with the mission of elephant conservation, the sprinkles are made with all-natural ingredients, including sustainable, deforestation-free palm oil.
Palm oil is the world's most popular vegetable oil, used in everyday products like toothpaste, chocolate bars and lipstick. When tropical habitats are destroyed to produce palm oil, elephants and many other species are left homeless. Using deforestation-free palm oil, like the type found in the Samsonwich, is one way to support elephant conservation efforts around the world.
Ruby Jewel will sell the Samsonwich all summer long from its cart at Elephant Plaza, within view of the elephant who inspired its creation.
The Oregon Zoo is recognized worldwide for its Asian elephant program, which has spanned more than 60 years. Considered highly endangered in their range countries, Asian elephants are threatened by habitat loss, conflict with humans and disease. It is estimated that just 40,000 to 50,000 elephants remain in fragmented populations from India to Borneo.