Volunteer at the zoo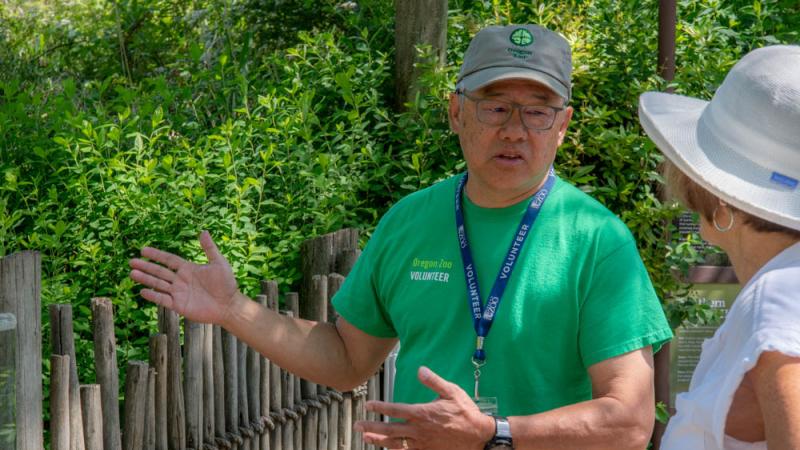 The 2023 volunteer program is full
We will post information for our next volunteer recruitment in the spring of 2024. We recruit a limited number of volunteers in the spring for a summer-focused program that will participate solely in our habitat roving role. Please check back in April 2024 for more information.
This opportunity:
can be a family or individual volunteer experience
provides a chance to make a difference and help the zoo
has an age minimum of 10 years old with a parent, 15 years old without a parent
Please note:
If you're 10-14 years old, you must volunteer with one consistent adult, such as a parent, relative, or close family friend.
The adult must actively participate in the summer volunteer program alongside the youth, including completing a separate volunteer application and attending orientation, training and actively participating in the volunteer program alongside the youth.
Please note that all 18 yrs old and older volunteers must complete a background check.
The Oregon Zoo is a community of animals, staff and volunteers. Volunteers play an important role in supporting the zoo's success by engaging with guests, communicating conservation messages, and supporting the evolving needs of the zoo.
Benefits of being a zoo volunteer include free zoo admission for some positions, acquiring new skills, and having fun working with some great staff and other volunteers.
Volunteer animal behavior monitor
Oregon Zoo animal behavior monitoring volunteers primarily assist with various monitoring projects designed by the Oregon Zoo research staff and animal care staff. Applications are currently open. Learn more. 
Volunteer dive program 
Make a splash at the zoo! Certified SCUBA divers are invited to support marine life keepers with diving tasks in the marine area. Learn more. 
For current volunteers
Zoo volunteers' VIC net website
Related links
Volunteering with Metro's wildlife monitoring program
Volunteering at Metro's Native Plant Center
Volunteer restoration in Metro's natural areas
Volunteer opportunities at the Portland Center for the Performing Arts
Volunteer opportunities at the Oregon Convention Center