Food at the zoo
Oregon Zoo members receive 10% off food and beverage purchases from the restaurants listed below.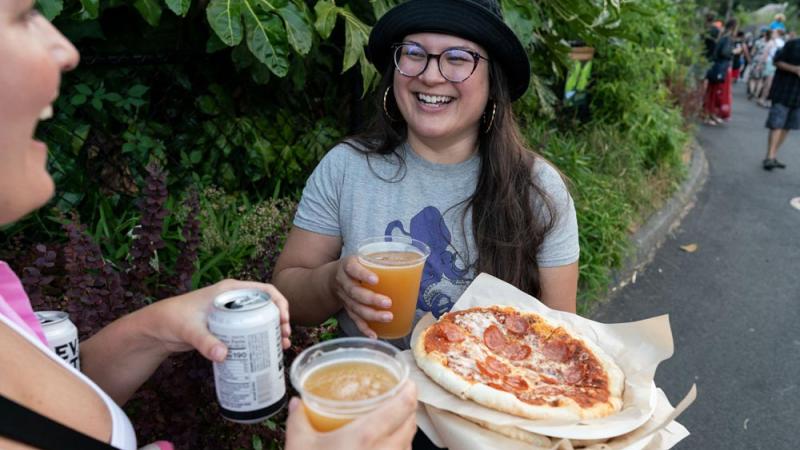 Open daily
Cascade Cafe (Entry Plaza)
A great place to start or end your zoo trip! Grab a coffee or latte from Portland Coffee Roasters or a refreshing fruit smoothie. Serving hot sandwiches, acai fruit bowls, salads, wraps, and other grab-and-go options. In the mood for a treat? Stop by for a Dole Whip, popcorn, caramel corn, chips, or cotton candy.
Aviary Cafe (Elephant Plaza)
Centrally located in the zoo and adjacent to the amphitheater and Elephant Lands, Aviary Cafe is a great stop before continuing your journey through the zoo. Do some birdwatching while dining on a selection of quick favorites such as cheeseburgers, chicken tenders, Zenner's hot dogs, fresh salads, wraps and shoestring fries. 
Place your order ahead with Aviary Cafe
Elephant Ears (Elephant Plaza)
Our signature item for more than 35 years, Elephant Ears* – served hot and fresh, dusted with cinnamon and sugar – continue to delight both old and young alike. *No elephants were harmed in the creation of these delicious treats.
Open select days and times
Trailhead Snacks (Central Plaza)
Featuring the 'walking taco,' hot pretzels, nachos, caramel corn, chips, soft drinks, and draft beer.
Shave Ice (Central Plaza)
Enjoy a variety of self-service shave ice flavors, cold fountain beverages, cotton candy, caramel corn, popcorn and churros.
Growlers Pizza (Elephant Plaza)
Join us for piping-hot pizza, fresh salads, soft drinks and ice-cold beer.
Place your order ahead with Growlers Pizza
Pretzels Galore (Elephant Plaza)
Featuring a massive 24-ounce family-size pretzel that easily serves four and other twisted varieties, Cheetos mix-it-up popcorns, ice-cold fountain beverages, cotton candy, caramel corn, canned beer and ciders.
Scoop and Swirl (Discovery Plaza)
Make a beeline for our ice cream or catch us on your way out. Located near the Zoo Train, Scoop and Swirl serves up a variety of velvety soft serve and rich scoop flavors. Grab a coffee, hot chocolate or soda while you're here and load up on popcorn and cotton candy for the train ride. Non-dairy options are available!