News
Oregon Zoo condor program welcomes first eggs of season
Feb. 20, 2020, 12:41 p.m.
Topic:
Conservation and species recovery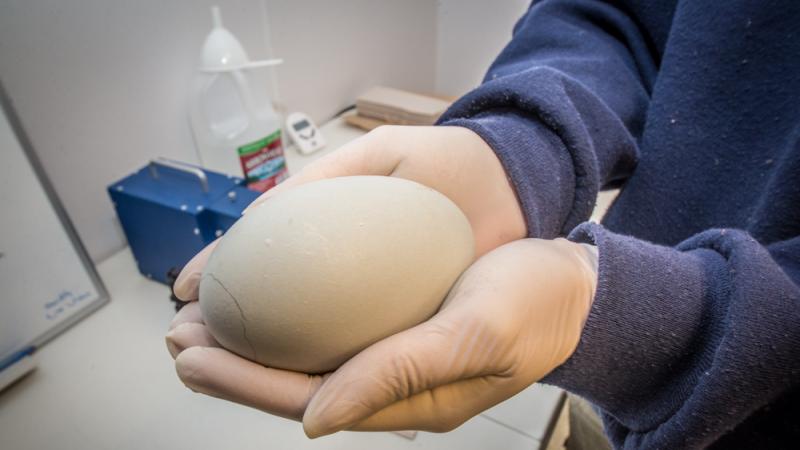 Recovery efforts are off to an eggs-ceptional start at zoo's condor conservation center
California condors at the Oregon Zoo's Jonsson Center for Wildlife Conservation are laying the groundwork for species recovery one egg at a time. The first several eggs of 2020 arrived at the center over the past week, and keepers hope to see more throughout the month.
"A successful start to the season like this is great news for the California condor's comeback," said Kelli Walker, the zoo's lead condor keeper. "With only about 500 of these endangered birds in the world, every egg counts."
There are 14 condor pairs at the conservation center this year — more than any previous season. That means the potential for more eggs and more chicks, but it also means many of these birds are laying eggs for the first time. According to Walker, that makes for a bit of a learning curve.
"Some of our new condor couples might take a few tries to get things right, which is to be expected with young birds," Walker said. "We're monitoring all of the nest boxes, and checking on the eggs to make sure they're developing correctly."
Walker and her team use a process called candling — using a bright light source behind the egg to see details within the shell — to determine whether eggs have been fertilized, and when they're likely to hatch. This information is critical, especially in the rare instance when a chick needs help coming out of its shell.
The Oregon Zoo's condor recovery efforts take place at the Jonsson Center for Wildlife Conservation, located in rural Clackamas County on Metro-owned open land. The remoteness of the facility minimizes the exposure of young condors to people, increasing the chances for these birds to survive and reproduce in the wild. California condor breeding programs are also operated at San Diego Zoo's Wild Animal Park, the Los Angeles Zoo and the Peregrine Fund's World Center for Birds of Prey in Idaho.
The California condor was one of the original animals included on the 1973 Endangered Species Act and is classified as critically endangered. In 1982, only 22 individuals remained in the wild and by 1987, the last condors were brought into human care in an attempt to save the species from extinction. Thanks to recovery programs like the Oregon Zoo's, the world's California condor population now totals more than 517 birds, most of which are flying free.