News
She's got game: Sea otter Juno keeps fit by shooting hoops
May 8, 2019, 9:04 a.m.
Topic:
Community,
Animal well-being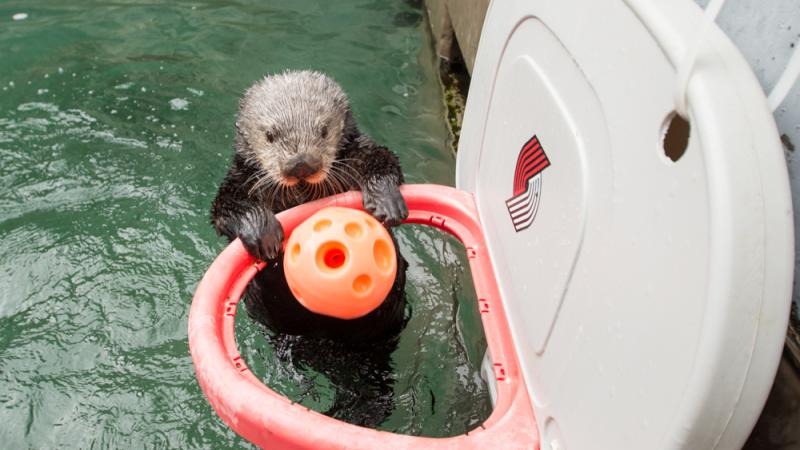 Innovative training activity offers health benefits and enriching fun for rescued otter
Trail Blazers' guard Damian Lillard isn't the only local hoops star to make a big splash this season. Oregon Zoo keepers say Juno the sea otter can dunk with the best of them and just might have the highest shooting percentage in town.
Several years ago, caregivers began training Juno's friend Eddie to put a ball through a plastic basketball hoop as a way of exercising the aging otter's arthritic elbow joints. Eddie, nearly 21 years old when he died last year, was one of the oldest known sea otters in the world and earned worldwide fame for his dunking skills.
Now, 5-year-old Juno appears to have taken up the mantle. Although a newcomer to basketball, the playful marine mammal has caught on quickly and brings a youthful exuberance to the traditional sea otter dunk — sometimes adding a spirited 360-degree spin before rising up and jamming it home.
"She's got swag," said zoo marine-life keeper Amy Hash. "She has a ton of energy and enthusiasm, and she brings her own special flair to basketball practice."
Experts believe positive-reinforcement training plays a critical role in animal well-being. And while Juno's hoops workout is mostly an enrichment exercise now, veterinarians say it could have additional health benefits as the young otter gets older.
Juno's athletic exploits take place off-exhibit, in a behind-the-scenes training pool connected to the zoo's Steller Cove habitat via underwater tunnel. 
Oregon Zoo keepers think Blazers coach Terry Stotts — who majored in zoology at the University of Oklahoma — might appreciate Juno both for her hoop skills and her ability to inspire sea otter conservation. Considered a keystone species, sea otters play critical role in the Pacific Coast marine ecosystem, promoting healthy kelp forests, which in turn support thousands of organisms.
Juno and the two other sea otters at the Oregon Zoo — Lincoln and the newly arrived Uni Sushi — are rescue animals, orphaned off the coast of California as tiny pups and brought to the Monterey Bay Aquarium's rescue and care program for rehabilitation. Unable to be paired with a surrogate mom, they were deemed non-releasable by the U.S. Fish and Wildlife Service.
Sea otters, once abundant along the Oregon coast, were hunted to extinction here in the early 1900s and have not established permanent residence in the state for more than a century. A few visiting otters have been sighted in recent years, notably in Depoe Bay in 2009. Though currently protected from hunting by the Marine Mammal Protection Act of 1972 and the Endangered Species Act of 1973, they continue to be threatened by oil spills, fishing nets and infectious diseases.