News
Veterinary Spotlight: Q&A with Banfield's Dr. Carla Lerum
Aug. 10, 2023, 9:11 p.m.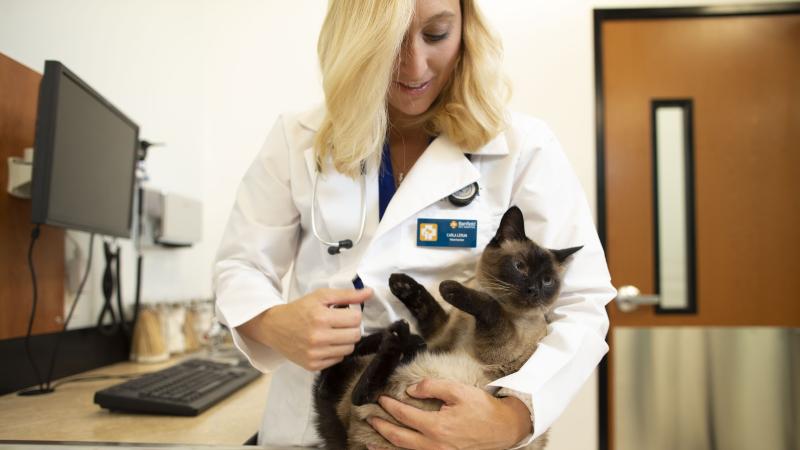 Oregon Zoo: How did you get started in your career and what do you do?
Dr. Lerum: People are often surprised to learn how many career paths there are in animal health, and my position is a perfect example of that. I'm formally trained as a clinical veterinarian and in my current role, I partner with the information technology team to investigate how systems and technology can help us deliver on our purpose: A Better World for Pets. While there are various types of veterinarians who work directly with animals — some care for pets, farm animals or exotic animals — there are many opportunities outside of the clinical setting too.
Is there a project you're especially proud of?
I am passionate about Banfield's focus on high-quality veterinary care. I managed a program that created standards for the delivery of anesthesia across our hospital system, and helped generate an industry publication that outlined best practices. These proven fundamentals of quality and medical standards have improved anesthesia safety to benefit the pets we serve and the people who love them.
What advice would you give someone interested in pursuing a veterinary career?
When you have a strong foundation in science, the opportunities are endless. Every day a new door can open, so get involved and stay informed. Find out what makes you happy, identify a mentor and build a path to get there. Remember that learning will always be an ongoing journey — don't get discouraged!
As summer begins, do you have any hot-weather safety tips for pet owners?
A good rule of thumb is if it's too hot for you, it's too hot for your pet! The best way to help keep your pets safe during summer is to provide shelter, shade and plenty of fresh water. Protect your dog's paws by going for walks in the morning or evening when the pavement is cooler, and stay on grassy surfaces as much as you can. It's also very important to never keep your pet in a car on a warm or hot day. Even with the windows open, the temperature inside a car can soar to 120 or more within minutes. 
Also, June marks the beginning of the natural disaster season for a majority of the country. It's important to keep your pet in mind when preparing for any emergency by having a disaster bag ready to go with food, medications, treats and toys, as well as medical records, microchip details and contact information for your veterinarian.
For more tips and articles on summer safety for pets, visit Banfield.com.