News
Zoo will offer inside look at Nora's new stomping grounds
Feb. 3, 2021, 3:05 p.m.
Topic:
New zoo,
Community,
Habitat news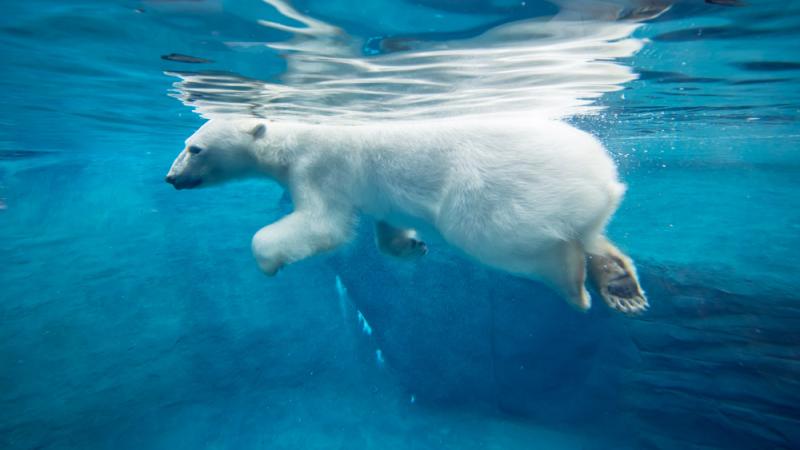 Oregon Zoo visitors can get a rare bear's-eye look at history in the making Feb. 12-15, 2021.
With construction on the new Polar Passage nearly complete, zoo guests ages 12 and up are invited to hike through the soon-to-open habitat for a look inside Nora's new stomping grounds before she moves in. Tours are free with zoo admission, which must be purchased online in advance.
The rugged terrain inside the habitat, simulating the bears' native tundra region, may not be suitable for people with mobility challenges. All guests must be 12 or older and wear sturdy closed-toe shoes. Wheelchairs and strollers are not permitted. Construction fencing will be down, so even those who don't go inside can get a sneak peek from visitor areas.
Tours will not take place if weather events create unsafe conditions for visitors inside the habitat.
Polar Passage, which will open this spring, is one of eight major projects made possible by the community-supported zoo bond measure passed in 2008. The final three projects — improved habitats for primates, rhinos and polar bears — are all set to open this year.
At Polar Passage, Nora will be able to roam over a variety of natural terrain, climb on large shade structures, play in piles of ice and plunge into deep saltwater pools. Visitors can come eye to eye with the bears and see conservation science in the making as keepers demonstrate the zoo's work collecting critical data for scientists in the Arctic.
"We've learned a lot about polar bears through the years," said Amy Cutting, who oversees the zoo's North America area. "And we're so grateful to the community for supporting us in putting that knowledge to work in the design of this amazing new habitat for Nora and other future bears."
Many of the new features at Polar Passage were made possible through the Oregon Zoo Foundation's $8.5 million Heart of the Oregon Zoo campaign, which is currently raising funds to support the zoo's efforts in advancing animal welfare, conservation and education. To learn more or to make a gift, call 503-505-5494 or email do-more@oregonzoo.org.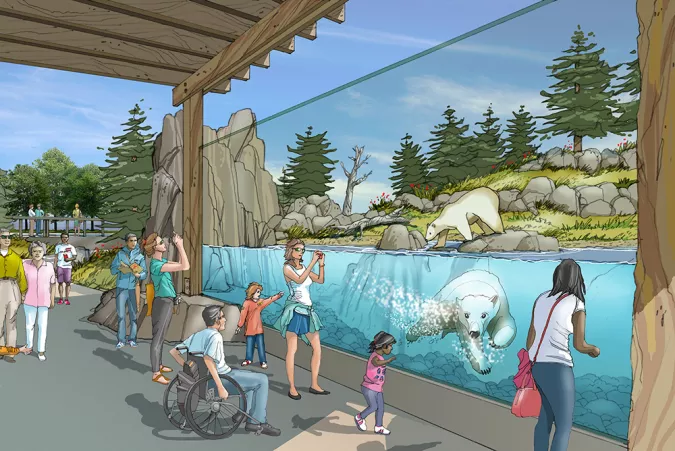 As climate change reduces Arctic sea ice, polar bears struggle to find and catch seals, making it harder for them and their cubs to survive. The species is classified as threatened under the U.S. Endangered Species Act, and the International Union for the Conservation of Nature's Species Survival Commission has designated the species as facing a high risk of global extinction.
The zoo is working with Polar Bears International, the U.S. Geological Survey and other partners on projects that will shed new light on how climate change is affecting polar bears in the Arctic. In 2011, Oregon Zoo polar bears became the first in the world to participate in voluntary blood draws — a significant advance that improves animal welfare, especially during veterinary treatment. Since then, the zoo has helped USGS researchers study how climate change is affecting the diets of wild polar bears and develop methods to remotely investigate how these predators are responding to the retreat of sea ice.