Gratitude report and foundation milestones
The foundation's annual report gives an inside look at the collaborative impact of the Oregon Zoo, the Oregon Zoo Foundation and our community of supporters.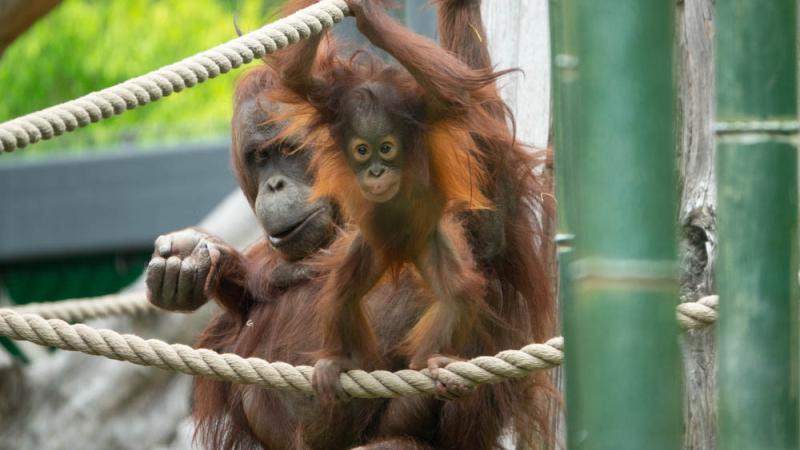 2021-2022 Oregon Zoo Foundation Gratitude Report 
Our annual Gratitude Report gives an inside look at the collaborative impact of the Oregon Zoo, the Oregon Zoo Foundation and the community. We can't do this work alone—it takes a herd. Read our complete 2021-2022 Gratitude Report here. 
Foundation milestones
What began as a collection of exotic animals gifted to the City of Portland in 1888 has become an internationally recognized leader in animal well-being, species recovery and conservation education, thanks to generations of incredible community support. The Oregon Zoo is a local treasure, and we are so much more. Here are a few donor-supported milestones in the foundation's history.
2021-2022
To sum up a year at the zoo, we set out to tell the story of all that happens in just one day. Nothing was unusual or different about Aug. 24. There were the same animals to care for and details to manage to help thousands of guests create lifelong memories and experience the wonder of our natural world.
On any given day, the horticulture team provides browse for the animals while making the zoo buzz with life and color. They grow bamboo for elephants and red pandas, and cultivate early blue violets to help with butterfly conservation.
On any given day, teens from our Zoo Apprenticeship Program lead tours for community-based organizations like the Boys and Girls Club of SW Washington and the Native American Youth and Family Center. This summer, they connected with 421 youths through our ZAP-to-Zoo program — facilitating games, providing lunch, attending keeper talks, and helping them choose souvenirs from the gift shop.
And on any given day, people are coming together to restore native habitats and advocate for wildlife — inviting elected officials on tours to encourage support for important legislation, volunteering to serve on the foundation board, and helping to ferry tiny native frogs back out into the wild.
Thanks to members and donors, the zoo received $5.2 million this year to support education, conservation and animal well-being.
From right here in your backyard to Borneo and beyond, we are working to create a better future for wildlife. While the 2021-2022 annual report focused on a single day at the zoo, know that we do this work 365 days a year and YOU make it all happen. None of this would be possible without your generous support. 
Read our complete 2021-2022 Gratitude Report here. 
2020-2021
After years of planning and construction, we helped the zoo celebrate opening three new habitats in 2021. Polar bear siblings Nora and Amelia Gray are making a big splash in their saltwater pools at Polar Passage. The chimpanzee family settled in at Primate Forest. And two eastern black rhinos, King and Jozi, have moved in at Rhino Ridge, heralding a new chapter in the conservation of this critically endangered species. You made these habitats a reality.
Not all the news was big – our donors also supported raising and releasing hundreds of tiny native butterflies, pond turtles and frogs back into the wild. And, they provided $856,000 for conservation initiatives for beavers, sea otters and more. Thank you for sparking hope and helping create a better future for wildlife!
Read our complete 2020-2021 Gratitude Report here.
2019-2020
Around the world, we experienced loss, trauma and drastic change in response to a global pandemic — but also innovation and inspiring helpfulness. When the zoo closed to slow the spread of COVID-19, thousands of members and donors rallied to help, giving a combined $1 million in just three weeks. The Oregon Zoo Foundation board of trustees matched these gifts with additional relief from a reserve fund held for unforeseen zoo emergencies — for a total infusion of $2 million to meet the zoo's emergency operating needs.
Though the zoo was quiet during its 117-day closure, fresh fruit was still carefully measured and cut to serve bats and chimps each day; Asian elephant Samudra's penchant for plunging into a 60,000-gallon swimming pool continued unabated; African lion Zawadi guarded his pride as fiercely as ever; and the zoo's Veterinary Medical Center provided outstanding care for all the animals.
Read our complete 2019-2020 Gratitude Report here. 
2018-2019
At the close of 2019, halfway through the foundation's four-year Heart of the Oregon Zoo campaign, the Oregon Zoo Foundation raised over $6 million toward our $8.5 million goal. The campaign finances strategic investments in education, conservation and animal welfare, as well as significant support for the construction of new, world-class habitats.
Our donors added enriching features to the multimillion-dollar bond-funded construction of Primate Forest, including a stream, waterfalls, rocks and a tree canopy for climbing. These features encourage natural behaviors, keeping chimpanzees engaged and healthy.
Ultimately, the foundation played an integral role in welcoming polar bears back to the zoo, and we look forward to doing the same for critically endangered black rhinos.
Healthy habitats and thriving wildlife are of utmost important to the zoo and the foundation. From life-saving veterinary equipment to sophisticated cameras for monitoring animals at night, our community made a big impact in the 2018-2019 fiscal year.
Individual donors, estates and foundations helped purchase amazing tools for the Veterinary Medical Center—a blood-banking centrifuge, a computerized tomography (or CT) scanner and state-of-the art, energy-efficient freezers for storage of samples. These additions advanced our care for endangered western pond turtles, elephants and all the animals at the zoo.
2016-2017
In accordance with the foundation's dedication to conservation science, a huge accomplishment in 2016 was the creation of the $1 million Asian Elephant Endowment. Another OZF elephant conservation milestone seen in 2016 was an emergency fund transfer to supply milk replacer for orphaned elephant calves in Borneo.
The Oregon Zoo Foundation was thrilled to report that the Education Campaign exceeded goals by raising $1.7 million to enhance the zoo's Education Center, a home for innovative youth programs. In keeping with the foundation's commitment to education, one of the proudest moments of 2016 was a $97,000 grant award for Title 1 schools. This award ensured that Portland-area Title 1 third grade students were able to attend field trips to participate in Zoo School programming that would have otherwise been out of reach.
In addition, the foundation was able to provide $35,000 for security improvements at the zoo's Jonsson Center for Wildlife Conservation. Finally, $11,000 in Advancement Grants ensured that Oregon Zoo staff had access to the resources they needed to do their jobs.
2014-2015
The foundation concluded the Campaign for Elephants after raising $5.35 million to support Elephant Lands and the zoo's efforts. With funding from the foundation, the zoo expanded its cutting-edge work in the science of endocrinology, which advanced animal welfare.
Foundation support made it possible for the zoo to join international conservation partners in efforts to protect critically endangered pygmy elephants.  
At the groundbreaking for the zoo's state-of-the-art Education Center, the foundation announced a $1.5 million campaign to support technology in the classrooms and additional space for teen programs, alongside ongoing and expanded education programs.